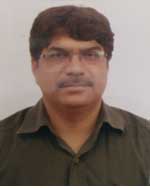 Dr. R. K. SHARMA
Ph. D., M. B. A. (Finance), M. Com. (Gold Medalist) & P.G.D.I.T.
Professor & Dean
Bharati Vidyapeeth University Institute of Management & Research
A-4 Paschim Vihar, Rohtak Road
New Delhi - 110 063, INDIA
Email: infoijrcm@gmail.com; info@ijrcm.org.in


Prof. (Dr.) R. K. Sharma is a Professor in Finance at Bharati Vidyapeeth University Institute of Management & Research, A-4 Paschim Vihar, Rohtak Road, New Delhi - 110063, India. He has published twenty quality research papers/articles in reputed Journals/Books. He had 15 years of rich administrative experience with Indian Air Force and 11 years of worthy teaching experience. He has authored two study materials on Financial Management & Capital Market of IASE University, SardarSahar, Rajasthan.
He has been regularly delivering live expert lectures on Accounting and Finance at Indira Gandhi National Open University, New Delhi on AIR FM 105.6 MGZ, Teleconferencing on Accounting, Finance and Management topics, at Indira Gandhi National Open University (I.G.N.O.U.), Delhi, telecasted on DD-National Channel (GYAN DARSHAN) and through Edusat at Panchkula, Haryana.
He has been a guide and an evaluator for M.B.A./M. Phil. dissertations and Ph. D thesis of students of various Universities. He has been guiding number of Ph. D scholars and some Ph.D Degrees has already been awarded under his guidance. He has worked as Dean (Academics) of Management Studies for two years.