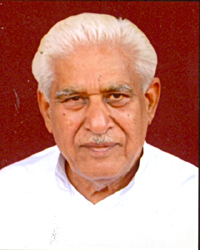 Late Sh. RAM BHAJAN AGGARWAL
Former State Minister for Home & Tourism, Government of Haryana
Former Vice-President, Dadri Education Society, Charkhi Dadri
Former President, Chinar Syntex Ltd. (Textile Mills), Bhiwani
Former President, Gaushala Trust, Bhiwani


Sh. Ram Bhajan Aggarwal, a great Social Worker and Philanthropist provided every kind of help to poor and needy section of the society. He donated funds for fees to poor students, helped financially for the marriage of daughters of poor parents particularly widow's daughters & ensured free medicines to patients. Who so ever approached him got litter or more but did not return empty hands. He remained two times M. L. A. From Bhiwani Constituency, Minister of State for Home & Tourism and Chairman, Haryana Tourism Corporation of Government of Haryana. He had acted as President (North Zone)-cum-Director Haryana Co-operative Federation and Chairman, National Consumer Co-operative Federation. He had represented Government of India in World Co-operative Conference held in Paris (France).
He had remained the President of Gaushala Trust, Bhiwani, Kanhi Ram Eye Hospital Trust, Ram Parsad Rameshwar Das Charitable Trust & Aggarwal Charitable Trust. He was the Vice-President of Dadri Education Society, which is running Eight Educational Institutions. He was a Treasurer of Smt. Vidya Devi Jan Kalyan Society. He was a Trustee of Vaish Mahavidyalaya Trust, which is running Eight Educational Institutions, Ch. Bansi Lal Memorial Trust & Prakartik Chikitsalya Trust. He was the Founder Member of Adarsh Mahavidyalaya Education Society, which is running a premier Girls College and Patanjli Yog Peeth, Haridwar.
He was also a noted Industrialist of India and President of a reputed Textile Mills in the name and style of Chinar Syntex Ltd. and President of Wholesale Cloth Merchant Association, Bhiwani.